edholden.com blog
Beer of the Month: Hopfest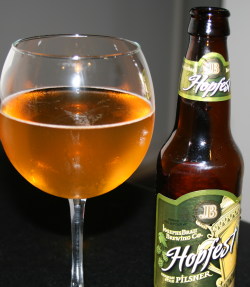 Yes, it's a wine glass
Summer calls for crisp, refreshing beers: the less malt-heavy, the better. Which is why I decided to pick up a few bottles of Hopfest by Josephs Brau, a brewey in San Jose, California. Hoppy beers, done well, are as crisp as they come.
Having no pint glasses available I tossed the entire bottleful into a red wine glass. Like a fine wine, a decent beer will always have a bouquet that can enhance its flavor, and drinking some beers from wine glasses can actually improve them. In fact most Belgian beers are consumed from custom bowl-shaped glasses for this very reason.
This turns out to be a good move with Hopfest, because despite its hoppy start (and it's really hoppy, more so than even most IPAs) its finish is very much like that of a lightly spicy Belgian blond ale. You have to wait a few seconds for it, but its very present, very unexpected, and thoroughly enjoyable.
If you don't favor hoppy beers, this isn't for you. But if you enjoy the kick of a strongly-hopped brew, this one has some unexpected surprises.
posted on 2008-08-29 13:15:00