edholden.com blog
Walloped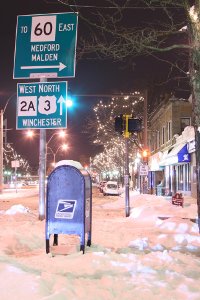 Arlington Center
We got walloped on Friday. Then yesterday we got walloped for much of the day, albeit gradually. Today we're getting walloped at a faster pace again.
I just stuck my handy tape measure through the snow on our house's back deck, which is a solid and relatively undisturbed coat, and measured it at 11 inches (28 cm).
I suppose I should shovel or something.
posted on 2008-12-21 12:20:00